Home Audio Installation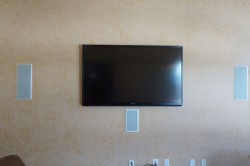 When it comes to creating an atmosphere, music makes a difference! That's why Evolution Electronics is proud to offer professional audio installation for your home or business. Whether you want to pipe in gentle background music or want to impress your friends with a window-shattering bass line, we have the equipment and the skills to bring you the results you want. If you're ready to add home audio to your residential or commercial property, give us a call today. Evolution Electronics is here to provide you with the quality audio you deserve.
Our technicians are able to customize your new commercial or home audio system to fit your specific desires. After an on-site consultation, we will determine the best way to fulfill your goals and design a customized audio installation plan. At Evolution Electronics, we only use top-quality products in order to deliver long-lasting home audio installations that will fulfill our customers' every need.
Some of our options include:
Indoor/outdoor capabilities: From a whole-house audio system to outdoor speakers, we can make sure that music follows you wherever you go! Our technicians have the skills to protect your outdoor audio installation against inclement weather and other threats for audio quality that can stand the test of time.
Audio video installation: Combining music with images can help promote your desired ambience. Evolution Electronics is well-versed in everything from television installation to surround sound installation, so we can help you create the audio video setup that's right for you!
iPod and iTouch integration: Enjoy your complete music collection without hassle!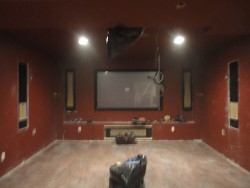 In addition to clear, crisp sound, it is almost important that your audio video installation looks sharp. Our technicians have more than 18 years of experience with installing a wide variety of home audio electronics. No matter what your design, we can deliver a flawless installation free of hanging wires and other eyesores.
Home audio and speaker installation don't have to break the bank. Our knowledge of our products helps us bring you affordable sound and video solutions. In addition to drawing up a personalized home theater audio plan, our technicians can work within your budget to bring you the services you need without overspending.
Whether you want outdoor speakers to pipe music out to your restaurant's patio or a home theater audio system to entertain your family, Evolution Electronics can help. We have been serving residential and commercial customers in Freehold and the surrounding communities for the past 18 years, and our professionals are committed to providing quality work and complete satisfaction on every project we undertake. Our bonded and licensed technicians are available to answer all of your questions regarding audio visual installations, and we can even provide free estimates on any service. Call today for more information on speaker installation, whole-house audio systems, and more!
home audio
home audio systems
home theater audio