Home Theater Installation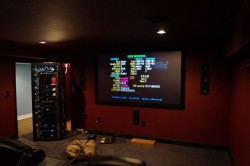 For a comfortable home theater with cutting-edge technology, call Evolution Electronics. Our home theater installations beat an afternoon spent at the Megaplex any day. From projectors to video game systems to HD-TVs, there is no electronic system that we cannot accommodate.  
Evolution Electronics goes a step farther than any other home theater company around, and actually provides contracting work in order to prepare your space for a home theatre installation. Some of the tasks our home theater installers can perform include:
Finishing basements
Adding shelving, entertainment units, and other carpentry work
Installing insulation
Installing lighting
Connecting wires
Mounting televisions, projectors, and more
Configuring equipment
Installing automated window shades and lights
Running cables behind walls for a neat appearance
And more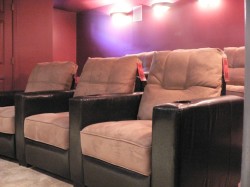 You won't get such complete service from any other home theater company! Our goal is to provide a home theatre installation that can complement your aesthetic tastes while producing impressive sound and picture quality. And because we can help you handle the job from start to finish, our home theater installers make the process convenient and hassle-free. You can expect quality home theater installation craftsmanship from Evolution Electronics. We believe in our skills so much, we provide a lifetime warranty on all labor!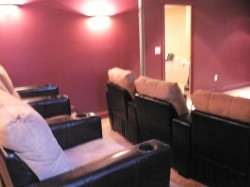 The perfect in-home theater means something different to every customer. That's why we give you the power to design your custom home theater installation. Our technicians will give you suggestions and expert guidance, but at the end of the day, it's all about meeting your personal tastes, lifestyle, and entertainment needs. Although many customers want to spruce up their interior design and mimic the experience of going to the movie theater, others are looking for more modest entertainment system expansions. Whether you're interested in dedicating an entire room for your home theater installation or just want to upgrade your living room so you can enjoy an enhanced entertainment experience, Evolution Electronics can help.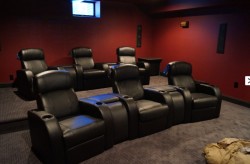 Home theatre installations aren't just for the home, as the name implies. Many businesses also have theaters to add a unique dynamic to presentations, provide a space for employee downtime, and more. No matter why you want a home theater installation, our technicians will work to bring you all of the features you desire.
Evolution Electronics has been providing Freehold and surrounding communities with home theatre installations since 1993. Our home theater company is fully bonded and insured. Call today for a free estimate, and set up an on-site consultation with our experts.
Home Theatre Installation
Home Theater Installers